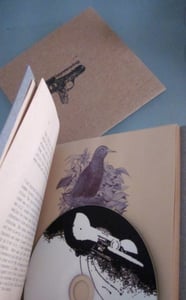 $

20.00
<<<< JON VANCE & ERIC de JESUS reading! 6pm june 2nd 2012 at End of An Ear, Austin TX >>>>
info down below
S O L D O U T
(sorry, no more left. you can still get the soft cover version though, with the color cover.)
the original hard cover edition of WE WONT BE HERE FOREVER by Eric de Jesus. published 2010 by the Future Recordings label of California.
full color illustrations, hard stock, silk screened cover, bound and tied, the CD soundtrack by MINUS PILOTS (UK) comes in a cardstock silk screened cover of its own, packaged within the book.
extremely limited and sold out from Future Recordings. only a few available here.
"...collaboration between Eric de Jesus and Minus Pilots. That's right folks, not only do you get an album's worth of shape-shifting electronica, you also get a book which the music forms a soundtrack to. To quote from the press release, which has to be unique in underplaying the astonishing quality of the product, the book contains a "long story or a short novella written by Eric de Jesus in Philadelphia." And quite a piece of writing it is too, with a plain, straightforward narrative stye reminiscent at times of Raymond Carver." - www.collective-zine.co.uk/reviews/?id=7857
=============================================
HELLO HARDCORE BEATNIK HEADS COME TO THIS READING:
06/02/12 6pm End of an Ear
2209 S. 1st, Austin, TX 78704
jon vance wrote the coolest lyrics in the world while in the seminal MOSS ICON. and he is still kicking to this day. if yr in austin texas for MOSS ICON's big spiritual reunion communion at the Chaos in Tejas fest, please stop in the evening before their show at End Of An Ear and see him read from his book Tulip Has A Room. Tonie from MI will be doing the quiet-cool backing soundtrack.
eric de jesus from WHH wrote We Won't Be Here Forever (on Future Recordings label / soft cover edition on American Type:Writer). a new record of him reading 2 story/poems about the classic emo year of 1988, backed by DRAGON TURTLE, is soon out on www.la-soc.com.
TULIP HAS A ROOM by Jon Vance:
http://www.easysubcult.bigcartel.com/product/book-by-jon-vance
WE WONT BE HERE FOREVER by Eric de Jesus:
http://www.easysubcult.bigcartel.com/product/we-wont-be-here-forever-future-recordings-edition
MOSS ICON (these have to be some of the best lyrics ever written by a young American male):
http://youtu.be/qsOb7J6ZNsk
SPOKEN JAMS BY ERIC;
http://ericdejesusspokenword.bandcamp.com/
ERIC de JESUS w/ DRAGON TURTLE:
http://www.la-soc.com/dteric.html
please come by and say hi! drink the red wine emo.........