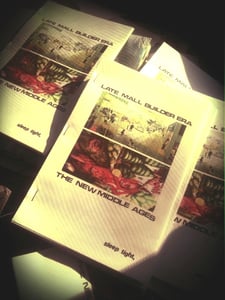 $

7.00
"FROM DORNEY PARK TO ABU GHRAIB, MIDDLE SCHOOL TO MIDDLE AGE, GIRL SCOUT CAMP TO LINDY ENGLAND, THE WESTERN WORLD HAS, IN THE SPAN OF OUR LIFETIMES, EVOLVED FROM THE BRIGHT INNOCENT OPTIMISTIC MALL IN FAST TIMES TO THIS CURRENT GUANTANAMO PRISON CAMP OF A CRASS, DEMENTED SURVEILLANCE SOCIETY & POLICE STATE. DONT LET IT GET YOU DOWN."
The Late Mall Builder Era To The New Middle Ages was the title & concept of a show at Eckhaus Gallery in pennsylvania curated by Eric de Jesus during the spring of 2012. the show featured work by Douglas Anson, Dan Murphy, Elizabeth Duby, Brother JT, Testunori Tawaraya, Eric de Jesus, Shaun McNally and Brian Plebani.
all of these artists were born during the Late Mall Builder Era, but now find themselves creating work in the early 21st century, at the beginning of the New Middle Ages...
this is the catalog / zine printed exclusively for the show and sold at the opening (at which BAD AMERICAN played and people thrashed). this is the second edition.
included in the catalog are images by the artists and a scholarly essay on each of them, written by Art Difuria Ph.D (Art History faculty, Savannah College of Art and Design).
the thing is seriously thick
and
a rare collectors item...........................................................
AMERICAN TYPEWRITER no. 017